Looking for Ludo Casino Sites? Use the Desibets.com guide to the best online casinos in India to play Ludo and the bonuses available.
Play Online Ludo in India

The Ludo Board

Single-Player Real Money Ludo

Multi-Player Ludo

Ludo Strategy
Play Online Ludo in India
Ludo is a popular board game that originated from the Indian game Pachisi. Players can now enjoy real money Ludo at India's top online casinos, and there's also a growing number of Ludo apps available.
You'll find two real money Ludo variants. The first is a single-player game, where you play one colour and try to move your pawns around the board to reach the final block. The other variation is multi-player real money Ludo that sees you competing against other Ludo enthusiasts.
Check out this guide to learn how to play Ludo online and browse through our list of India's best Ludo sites that have cash games ready to play.
The Ludo Board
Before jumping in and playing Ludo online for real money, you need to understand the Ludo board and the objective of the game.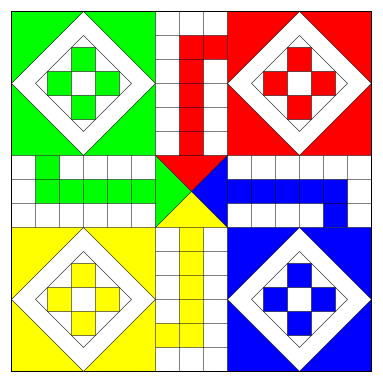 As a board game, Ludo is played with between two and four players. To begin with, the players will each choose a colour. Four pawns are then placed on the board in the small coloured squares that are within the large square.
Players take it in turns to roll one dice. They need to roll a 4 or 6 to move one of their pawns onto the board. Let's assume we are yellow. We roll a 4 - that means we move one pawn to the single yellow square (the one with white squares above and below it).
When it is our turn to play again, we roll a 3, so we move our pawn up the board - counting 3 white squares. We continue working our way around the white part of the board until we come all the way around. Then we move up the yellow column to reach the final block (the yellow triangle).
While playing, if we roll another 4 or 6, we can bring additional pawns onto the board. The winner is the first player to get all 4 pawns into their respective coloured triangle. Additional rules include getting an extra turn if you roll a 6 (two extra turns maximum each go), and if you land on a square that is occupied by another player's pawn, you send that player's pawn back to the start point.
Single-Player Real Money Ludo
The original game of Pachisi has been adapted slightly to create an exciting single-player Ludo game that can be played for real money. Scattered on the board, there are win multipliers and danger symbols like skulls. Here's a run-through of how these games work.
Choose which colour you want to be: green, red, yellow or blue.
Select how much you want each roll of the dice to cost. This will be fixed throughout the game.
Click the dice to roll it.
When you roll a 4 or 6, you can bring a pawn onto the board.
If you land on a win multiplier, you're paid the multiplier value times your bet size.
If you land on a danger symbol, that pawn is killed, and it goes back to the start.
The final block (the triangle in the centre) offers the highest multiplier payout.
For beginners, single-player Ludo games are the perfect starting point to help improve your playing strategy. The danger squares effectively work the same as another player landing on the same square as you - resulting in your pawn being sent back to the starting blocks.
Of course, the downside of casino Ludo is that the house has a small advantage. One of the most popular single-player real money Ludo games was developed by M-Play. It has an RTP of 96% - 97%. Therefore, the house edge is 4% - 3%, which is acceptable although not outstanding.
Multi-Player Ludo
While the fundamentals of Ludo remain the same, there are some notable differences between single-player and multi-player games, among them are:
There is a set buy-in for most multi-player games. The buy-ins go into the prize pool, which is picked up by the winner. With some games where there are four players, the first two players to finish usually get a payout.
The Ludo board doesn't have multiplier squares, nor does it have danger squares.
When you land on a start occupied by an opponent, the opponent's pawn is sent back to its home base. This also gives you an extra roll.
If you land on a square occupied by another one of your pieces, the two could be merged into 1 (depending on the rules).
The first player to get all of their pawns into the triangle in the middle is the winner.
Ludo Strategy
There's no clear Ludo strategy that will help you win all the time, but we can share some tips that will improve your gameplay, which in turn, should present more chances for you to win.
Get all pawns on the board as quickly as possible
Take the opportunity when you roll a four or six to get all your pawns in play. This presents you with more options when it comes to moving them around the board.
Don't focus on a single pawn
It's tempting to work a single pawn around the board, but it's not the best Ludo strategy. You want your pawns spread out by taking it in turns to move each one.
Kill opponents
When you get the chance, kill your opponent's pawns. This will clear the board for you and also hamper their chances. An exception would be if you have the chance of landing a piece in the centre end-zone.
Remember the Rule of 7
Try to maintain a gap of 7 spaces between your pawns and those of your opponents behind you. This means that they cannot kill you in a single roll. Of course, if they roll a six, they get another turn, but the probability of getting two exact numbers in consecutive rolls is 36:1. Ludo is a game of survival, so this rule is crucial in taking you to victory.
FAQs
How many players can play online Ludo?

There are single-player (against the computer) online Ludo games and multi-player variants that require between 2 and 4 players.

Does every casino offer Ludo?

At the moment, only a select few online casinos offer Ludo. Our team has filtered out the best sites for you to choose where to play.

Do I need to download an app to play online Ludo?

It depends - most casinos offer an instant-play version of this game that you can play directly from your web browser. But, there are dedicated apps as well, and these need to be downloaded.