Chennai Super Kings vs Rajasthan Royals Preview: Royal rivalry to be rekindled
Chennai Super Kings will take on Rajasthan Royals in match #12 of IPL 2021 on Monday
This match will be played at the Wankhede Stadium in Mumbai
Chennai Super Kings have won 6 of the last 10 matches against Rajasthan Royals
Faf du Plessis has scored at least 25 in 3 of his last 4 matches for Chennai Super Kings
Rajasthan Royals have scored more power play runs than Chennai Super Kings in 6 of the last 8 matches
Rajasthan Royals have hit more 6s than Chennai Super Kings in 8 of the last 12 matches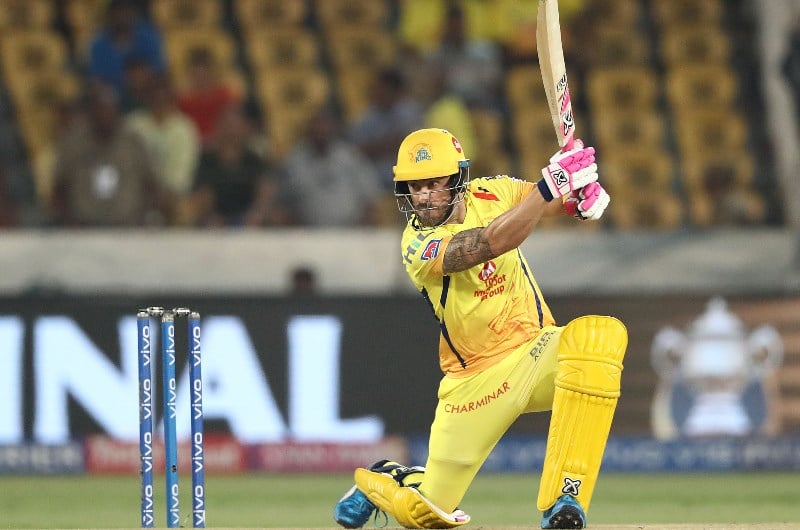 Can Faf's form rescue the Chennai Super Kings against Rajasthan Royals? (Getty Images)
The old rivalry between Chennai Super Kings and Rajasthan Royals will be rekindled when the sides meet on Monday. This match #12 of the Indian Premier League 2021 will be played at the Wankhede Stadium in Mumbai.
Chennai have a 1-1 win-loss record in the season after a seven-wicket loss to Delhi Capitals was followed by a six-wicket win over Punjab Kings. Intriguingly, the Royals also have a 1-1 record with a four-run loss against Punjab Kings followed by a three-wicket win over Delhi Capitals.
Chennai Super Kings Form
The constant positive factor for Chennai this season has been Moeen Ali (82 runs @ SR 149.09, one wicket @ ER 8.33). His promotion to number three has been a steady influence. Suresh Raina may have flopped in the previous match, but he is an equally important player for the Chennai side.
Deepak Chahar's mesmerising 4/13 in the massive win over Punjab underlined his new-ball skills. The Super Kings, however, will demand more from Shardul Thakur (two wickets, ER 11.47).
Chennai Super Kings News
Lungi Ngidi is out of isolation and has joined the squad, although it's not entirely clear if he will be selected.
Rajasthan Royals Form
The Royals have been completely dependent on captain Sanju Samosn (123 runs, SR 186.36) although the return to form of David Miller (62 off 43) is a great sign. In Ben Stokes' absence, the team wants more from Jos Buttler, who is yet to fire (27 runs, SR 135.00).
Jofra Archer's continued absence has put pressure on the bowling resources, but the left-arm seamers Jaydev Unadkat (three wickets, ER 3.75) and Chetan Sakariya (three wickets, ER 8.00) have responded well. Chris Morris (three wickets at ER 9.71, 38 runs at SR 172.72) will once again be their go-to man.
Rajasthan Royals News
Ben Stokes is out of the competition, while Jofra Archer has only resumed mild training.
Chennai Super Kings vs Rajasthan Royals Head-to-Head
Chennai Super Kings hold a 14-9 win-loss record against Rajasthan Royals in the 23 IPL matches played between the sides. However, it is the Royals who have won both the matches last season.
Samson's masterly 74 off 32 balls set the Royals up for a 16-run win in the first match, while the second match saw Buttler smash a match-winning 70* off just 48 balls to lead the Royals to a seven-wicket win.
Chennai Super Kings vs Rajasthan Royals Match Up
Both teams have shown their batting inconsistencies, although Rajasthan Royals have displayed better firepower. It could be a battle of the top-orders as Chennai Super Kings' opening bowlers will look to keep the Royals' hard hitters under check.
Chennai Super Kings vs Rajasthan Royals Stats
Chennai Super Kings have won 6 of the last 10 matches against Rajasthan Royals.
Faf du Plessis has scored at least 25 runs in 3 of his last 4 matches for Chennai Super Kings.
Rajasthan Royals have scored more powerplay runs than Chennai Super Kings in 6 of the last 8 matches.
Rajasthan Royals have hit more 6s than Chennai Super Kings in 8 of the last 12 matches.
Jos Buttler has 216 runs against Chennai Super Kings in 5 innings with 2 scores of 50 and above.
Prediction
Rajasthan Royals have won the last two matches against Chennai Super Kings, but haven't won three in a row since the first season of IPL. Sanju Samson's men have an edge on paper, but the inconsistent showing with the bat pegs them down. Chennai haven't fared any better, especially with MS Dhoni struggling for impact. Back the Royals to score the most 6s in the match and if Buttler gets going they may even race away with the best powerplay score of the match. As for individual players, back Faf to score at least 25 runs.