Royal Challengers Bangalore vs Rajasthan Royals Preview: Dream run for the Reds
Royal Challengers Bangalore will take on Rajasthan Royals in match #16 of IPL 2021 on Thursday
This match will be played at the Wankhede Stadium in Mumbai
Royal Challengers Bangalore have won 7 of 11 matches against Rajasthan Royals while chasing
Royal Challengers Bangalore have conceded more runs in the power play in 5 of their last 6 matches
AB de Villiers has scored at least 47 in 6 of his last 10 matches against Rajasthan Royals
Shreyas Gopal was Rajasthan Royals' best bowler in 5 of his 6 matches against Royal Challengers Bangalore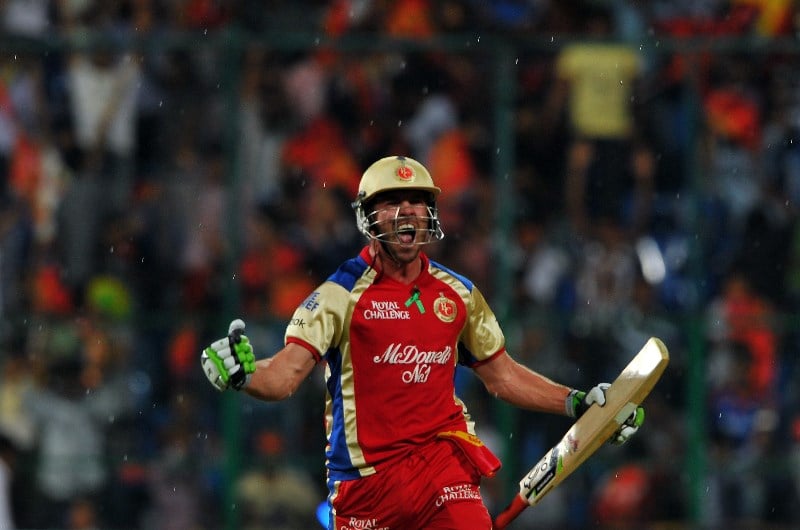 Can AB de Villiers continue his strong form against Rajashtan Royals and lead Royal Challengers Bangalore to a fourth win? (Getty Images)
Royal Challengers Bangalore will look to extend their winning start to the Indian Premier League (IPL) 2021 campaign when they take on a struggling Rajasthan Royals on Thursday. This match #16 of this campaign will be played at the Wankhede Stadium in Mumbai.
RCB started with three wins in three matches for the first time in their IPL history, although all those have come in Chennai. Rajasthan Royals have struggled to cope up with the absence of Jofra Archer and Ben Stokes losing two of their first three matches.
Royal Challengers Bangalore Form
The Challengers' campaign has been built on the success of Glenn Maxwell (176 runs, SR 149.15) and AB de Villiers (125 runs, SR 189.39) with the bat. The duo has been covering up for the lack of runs from their openers Virat Kohli and Devdutt Padikkal.
With the ball, it has been the sensational Harshal Patel (nine wickets, ER 5.75) who has done brilliantly in the death overs. Mohammed Siraj (ER 5.81) has been equally impressive, although Yuzvendra Chahal (two wickets, ER 8.66) has struggled for impact.
Royal Challengers Bangalore News
Kane Richardson and Adam Zampa will be available for selection as the Mumbai leg may force a change of team composition.
Rajasthan Royals Form
Rajasthan Royals have worked their batting around captain Sanju Samson (124 runs, SR 174.64), while Jos Buttler (76 runs, SR 138.18) is just getting into form. However, the poor form of Shivam Dube, Rahul Tewatia and Manan Vohra are a big concern.
The absence of Jofra Archer has been felt in the bowling department, but the emergence of Chetan Sakariya (six wickets, ER 8.33) has calmed their nerves. Jaydev Unadkat (three wickets, ER 6.87) has comeback well, while Chris Morris (five wickets @ ER 9.18, 38 runs @ SR 158.33) has also started well.
Rajasthan Royals News
Liam Livingstone has flown back home due to 'bubble fatigue' making him the third Royals' player to be out of contention.
Royal Challengers Bangalore vs Rajasthan Royals Head-to-Head
The head-to-head record between Royal Challengers Bangalore and Rajasthan Royals is tied at 10-10 in completed matches. However, it is the RCB side that has won both the matches last season.
Virat Kohli and Devdutt Padikkal hit 50s to lead RCB to an eight-wicket win in the first win. In the reverse match, AD de Villiers led the chase with a masterly 55* off just 22 balls after Chris Morris took 4/26 for the Bangalore outfit.
Royal Challengers Bangalore vs Rajasthan Royals Match Up
Royal Challengers Bangalore started the tournament in a breeze enjoying the Chennai conditions more than any other side. The form of AB and Maxwell is a big boost for the side, but it is with the ball that they have massively improved. As for the Royals, they look dispirited after the pullouts and need a fresh dose of energy. Samson's inconsistent form isn't going to help and Buttler may have to continue doing the heavy lifting.
Royal Challengers Bangalore vs Rajasthan Royals Stats
Royal Challengers Bangalore have won 7 of 11 matches against Rajasthan Royals when chasing.
Royal Challengers Bangalore have conceded the most powerplay runs in 5 of their last 6 matches.
AB de Villiers has scored at least 47 in 6 of his last 10 matches against Rajasthan Royals, top-scoring in 4.
Rajasthan Royals have posted the highest opening partnership in the last 4 matches against Royal Challengers Bangalore.
Shreyas Gopal was Rajasthan Royals best bowler in 5 of his 6 matches against Royal Challengers Bangalore.
Prediction
The Royal Challengers Bangalore should fancy their chances of making it four in four, looking at the form they bring to this match. They should fancy winning the most 6s count as well. As for individual picks, AB de Villiers has loved playing against the Royals and would be looking at putting up another impressive score.