BBL Team of the tournament: A combination of players who can give a ride to any T20 side
The Big Bash League 2020-21 (BBL10) has moved to the finals stage
There have been impressive performances from all the teams making our 13-man selection tougher than usual
Power Surge, X-Factor Sub, and Bash Boost have been taken into account while picking the players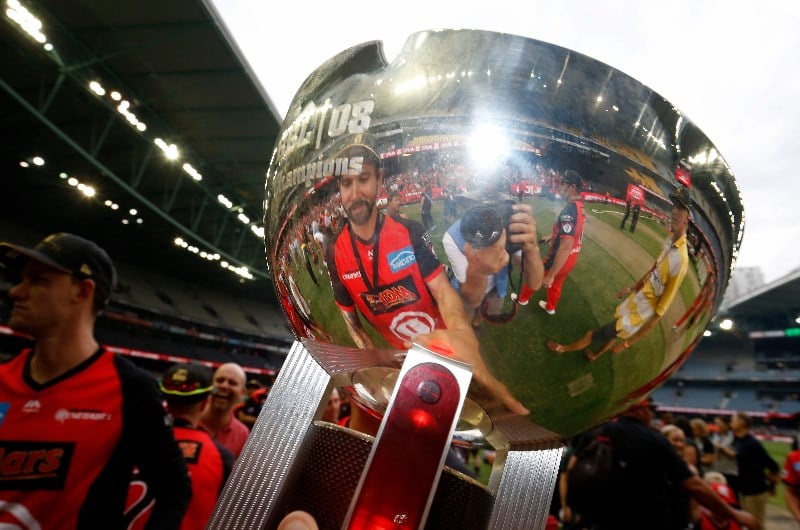 Who makes it to your team of the tournament? (Getty Images)
After a gruelling regular season that went all the way to the last time to decide the top-five teams, Big Bash League (BBL) has given us great dose of cricket. As the five qualified teams get ready for the finals, we thought of celebrating the tournament by picking our BBL team of the tournament.
This team has been prepared keeping in mind the foreigners' rule (three), possibility of an X-Factor sub, and the Power Surge. Without further ado, here we go!
1.Alex Hales (M:14 | Runs: 535 | Avg: 41.15 | SR: 163.60)
The forgotten man of England cricket has scored 81 more runs than any other player in the regular season. With an incredible SR and amazing consistency, any team in the league would love to have Hales on their side. We are no different, and he's one of the first players on this team sheet!
2.Josh Philippe (WK) (M:14 | Runs: 454 | Avg: 32.42 | SR 149.34 | 14 ct, 1 st)
After a poor showing in the IPL, Philippe is back to his best in familiar conditions and how! Runs at a fair clip and consistency second to none, Philippe has barged his way into the national side after an excellent BBL10. And, he's worthy of making that spot his own for a long time.
3.Colin Munro (M:13 | Runs: 411 | Avg: 34.25 | SR: 129.65)
Munro is not someone you associate with calm and consistent scores, but the Kiwi adapted to that role in BBL10. He scored 25+ in eight of his 13 innings making him one of the most consistent players this season.
4.Marnus Labuschagne (M: 3 | Runs: 123 | Avg: 41.00 | SR: 130.85 | Wkts: 6)
He is a left-field selection raising eyebrows but Marnus has definitely earned his place. After just three matches his presence has lifted the Heat into the finals. Marnus was the Heat's best bowler in two matches and their best batsman in one, highlighting his importance.
5.Glenn Maxwell (C) (M: 14 | Runs: 379 | Avg: 31.58 | SR: 143.56 | Wkts: 7)
Captaincy – check; runs at fair clip – check; wickets when needed – check!
Maxwell nearly took the Stars to the finals and that is a tribute in itself as the Melbourne outfit looked out of sorts but for Maxwell. He adds a lot of dimensions to our side.
6.Ben McDermott (M: 12 | Runs: 402 | Avg: 36.54 | SR: 139.58)
One of the cleanest strikers in Australia, McDermott is our lead striker to hit out in the late overs and the Power Surge.
7.Dan Christian (M:14 | Runs: 252 | Ave: 36.00 | SR: 186.66 | Wkts: 13)
The poster boy of T20 franchise cricket, Christian has been brilliant this tournament. He slammed a 15-ball fifty, while also delivering crucial overs in the Power Surge.
8.Jhye Richardson (M:14 | Wkts: 27 | ER: 7.08 | Dot balls: 45.7%)
But for injuries, Jhye would already have been a household name in international cricket. He's comeback in this tournament with a bang and his already impressive ER looks even better when you count that he bowled in the Power Surge in 12 of the 14 games taking nine wickets.
9.Nathan Ellis (M:14 | Wkts: 20 | ER: 8.31)
Another choice that may divide opinion, but Ellis has been sensational with the ball at the death. We need him to shore the attack during the Surge and the final overs.
10.Tanveer Sangha (M:14 | Wkts: 21 | ER: 8.04)
The best spinner of the campaign, Tanveer has been a revelation. So much so that he got a national call-up for the upcoming New Zealand tour. He pips Adam Zampa for this spot in our team.
11.Mujeeb Ur Rahman (M:8 | Wkts: 14 | ER: 6.26 | Dot balls: 42.1%)
It is safe to say that Mujeeb came out of the lengthy shadows of Rashid Khan in this tournament and made it his own. His ER is exemplary as usual and has been impressive with his efficiency as well.
X-Factor Subs:
Chris Lynn with 420 runs (SR 157.30) and Wes Agar (21 wickets, ER 8.23) will be our substitute picks.